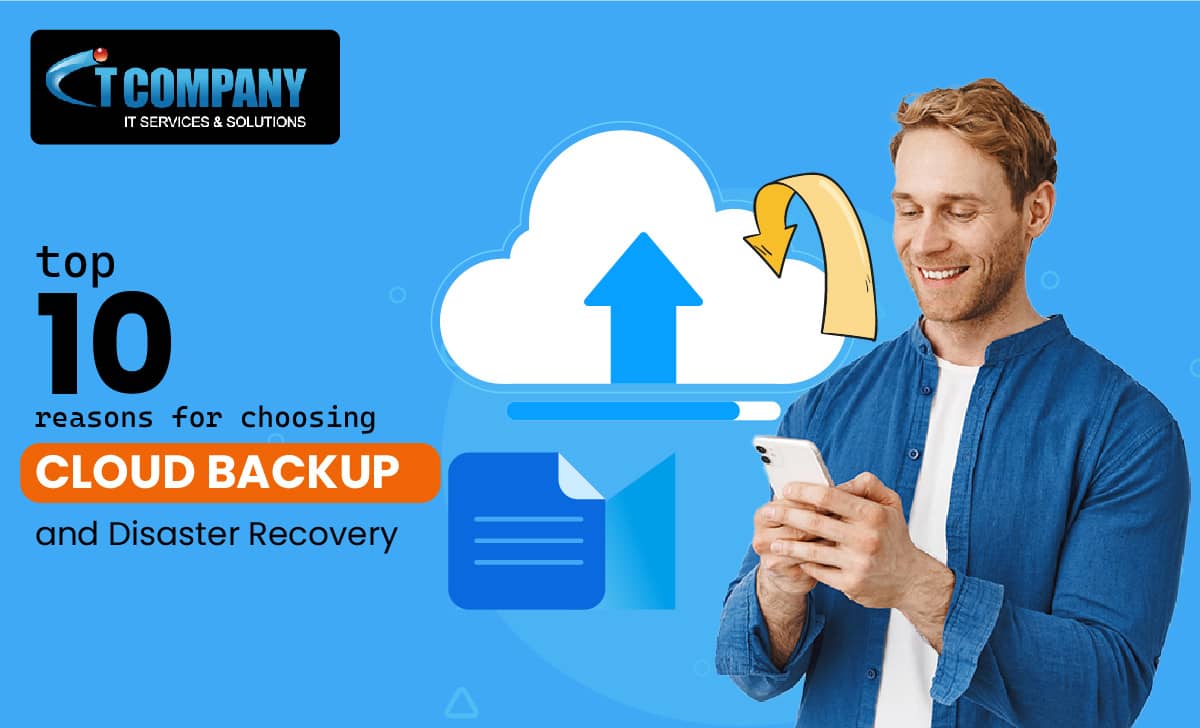 According to recent studies, 93 percent of organizations that lose data due to a disaster go out of business within two years. Businesses are increasingly relying on Server Backup Cloud Storage to manage data protection issues. Why?
The reason for this is simple: standard tape backup techniques make data protection complex, costly, unreliable, and unmanageable.
Cloud data protection solutions that combine the latest innovations in disk-based backup with secure, integrated cloud technologies provide organizations with rapid and assured recovery of essential company data while decreasing expenses to focus on more projects.
Cloud server backup solutions further decrease the strain of backup operations by automatically storing the data safely away for disaster recovery purposes. Consider these 10 reasons to go to the cloud for data backup and storage:
1. Achieve disaster recovery with secure, offsite cloud backup
You must also migrate your backup data offshore to really safeguard it. Too many businesses keep their backup media on-site, putting their data at danger from fire or water. The time and money required to restore deleted data may be expensive, not just in terms of missed productivity, but also in terms of lost income.
Disk-based cloud server backup, on the other hand, leverages the cloud to automatically transfer data elsewhere for disaster recovery. Only minutes after updating your backup data, it is immediately off-site.
2. Free yourself from Manual Backup Tasks
The unfortunate fact is that tape-based backup is time-consuming and labor-intensive. While organizations understand the importance of data security, those with limited IT resources would prefer to spend their time on more strategic tasks critical to the company rather than monitoring the progress of manual backups, analyzing logs, and resolving issues. Cloud backup solutions that are "set-it-and-forget" reliably and automatically offload these operations, enabling personnel to focus on tasks that have a more direct influence on your business—competitive advantage, productivity, and profitability. These systems help standardize and automate the backup process throughout your organization, eliminating the need for IT professionals at each site. A single backup program may cover both virtual and physical servers.
Apart from relieving IT workers of manual tasks, these systems also provide IT with Web-based tools for managing and monitoring all elements of server data security. Furthermore, these solutions relieve the strain of administering a backup infrastructure as well as a data protection procedure.
Cloud backup solutions are available on a subscription basis from reputable third parties that provide them as managed services. The finest managed services include 24×7 cloud backup, proactive data monitoring, immediate scalability, predictable pricing, and no capital investment in traditional backup and recovery systems.
3. Get Predictable Costs and Budgeting
Server Backup Cloud Storage with predictable monthly budgets and pricing, are ideally adapted to solve server data security. The service is totally automated, delivering instant backup of server data to an offsite location and using the vendor's infrastructure and expertise. This also allows IT workers to become more linked with business objectives.
Instead of the initial expense of licensing software licenses for specific servers, the payment for cloud backup is a predictable monthly service fee. This makes budgeting easier and monthly expenditures more predictable. With cloud backup, there are no charges for software, backup gear, maintenance, or media. As the service provider's client base grows, so does the cost of infrastructure and storage devices.
4. Count on reliable, guaranteed data recovery
If lightning strikes your building tonight, you must ensure that you can restore that day's data. Unfortunately, if you rely on a nightly backup process, restoring that data completely is impossible.
How frequently do you do internal backup tests? Could you retrieve all of your data?
Server Backup Cloud Storage address this issue by automatically sending changes to files and databases to a secure, off-site facility for more continuous backup. Your employees can accomplish this degree of backup with no effort—just set it and forget it—significantly boosting the reliability of your organization's data security.
The finest cloud server backup solutions not only safeguard recently updated files that are closed but also capture changes in open files and databases, which might include some of your most critical company data. Such solutions accomplish this without interfering with your process flow. Furthermore, their Service Level Agreements (SLAs) guarantee recovery.
5. Minimise the risk and cost of downtime
Data protection is not a one-time action or event. It's a complicated workflow of interrelated procedures that go much beyond basic onsite backup, and it includes the following steps:
Transferring copied data to a remote place to safeguard it from man-made or natural calamities.
Storage that both protects and organizes data, allowing for easy and speedy recovery.
Recovering duplicated data from storage whenever and wherever it is required.
If your present data protection solution does not handle all of these processes, your organization risks unacceptable exposure from insufficient protection, which might quickly result in severe consequences. Cloud server backup solutions provide a data protection workflow, reducing the risks and costs associated with each stage. These solutions provide the following advantages:
Automatic and immediate transmission to an off-site location
Secure storage that reflects your specific retention scheduling and policies
Rapid recovery at the level of granularity you want
This type of "hands off, lights out" thorough and continuous backup implies that in the case of a disruption or disaster, you may recover data from only seconds before the interruption, rather than the previous evening (or earlier). It significantly enhances your capacity to accomplish Recovery Point Objectives while also lowering the cost of downtime.
6. Restore data – fast
Organizations operate in real time and rely on digital data, which includes everything from payroll and customer files to email and other critical apps. When calamity strikes, you don't have the luxury of waiting for hours to restore your data. Your company cannot afford downtime, lost income, or other penalties. You can restore data quickly because cloud server backup services immediately relocate it off-site by backing it up to disk over the cloud. Instead of hours of waiting, cloud-based recovery allows you to restore your data in minutes, which is ideal for smaller file sets.
The finest cloud server backup services send just changes to files and databases—a highly effective strategy that not only speeds up recovery but also helps defend against data corruption, which is one of the most prevalent causes of data loss. These services also allow you to regulate how much bandwidth they consume at any one time, allowing you to plan and manage your workload and data flow. They also provide an optional onsite rapid recovery appliance, which allows you to recover enormous volumes of data while yet meeting strict Recovery Time Objectives. A portable storage device is also available to transfer large amounts of data (such as an entire server) from the offsite copy.
7. Take advantage of the service provider's expertise and resources
Why worry about the expenses and hazards of maintaining and administering the data protection process when you can depend on a reputable cloud backup provider to perform the heavy lifting? When you choose a cloud backup service, you are utilizing their expertise to safeguard and give continuous access to all of your data. You gain major competitive advantages by utilizing the latest technology, infrastructure, and scalability provided by a cloud backup service. Furthermore, you free up important staff resources for other tasks that have a more immediate influence on your productivity and business profitability.
Cloud backup solutions provide more cost control and predictable pricing. The service provider pays the expense of scalable resources and upgrades technology as disk-based backup advances. This choice provides your organization with flexibility as it develops and evolves, which is another important factor in keeping agile in a competitive economy. The top cloud server backup services provide trustworthy, proven experience in cloud data protection. These services provide you with the assurance that your data is safe in secure data centers.
8. Offload regulatory compliance requirements to the service provider
Most sectors now have their own constantly evolving standards covering remote data protection and retention durations. In healthcare, for example, rules mandate patient information confidentiality. However, if an office assistant places the backup media holding the secret information in his car and decides to stop at the shop on his way home, the patients' confidential information is vulnerable to theft or damage. Similarly, organizations must keep some financial documents for many years, but if you can't obtain those papers, you might face personal liability.

Organizations understand their fiduciary obligation to safeguard important data assets. You can keep ahead of the competition with cloud backup. Cloud server backup services allow you to automatically transfer your data off-site to a safe location, which is required by many sectors. As privacy and records retention laws become more stringent, cloud backup provides protection that traditional onsite techniques cannot, because data is always secure—during transfer, storage, and access. Another advantage of outsourcing server data security is that the finest solutions enable you to demonstrate consistent, repeatable information protection methods and controls. The same Web-based management tools that make backup and recovery easier to administer and monitor also let you control archive features that assist assure compliance with organizational and regulatory regulations.
9. Rely on a well-managed cloud that is more secure than your own data centre
Your company server is in charge of significant volumes of sensitive data, such as customer information, personnel records, intellectual property, and so on. You would never reveal these essential assets to others. However, by neglecting to safeguard data with encryption, businesses expose themselves to rivals, hackers, and plain human mistake.Your data is protected when you use cloud server backup with storage at a highly secure remote location. The finest cloud systems encrypt your data before transferring it over a secure cloud channel, and then retain it encrypted at the remote location. Only authorized users with the appropriate keys can decrypt it.
10. Count on easy setup and use with no training required
If a disaster occurs and you need to recover your data, standard tape recovery procedures might be time-consuming. However, no organization, no matter how large or small, can afford to lose access to crucial data for even a few hours, much alone days. One of the most significant advantages of cloud server backup services is the ease of use and extensive control that these solutions provide customers during recovery. You may choose which functions should be performed automatically while still having the flexibility to manage and monitor the whole backup and recovery process from anywhere and at any time.
When you need to recover from a site disaster, or if you need to restore data to a different place for whatever reason, authorized users may simply log on to a Web interface, pick the files they wish to restore, and indicate the destination. The restoration procedure starts automatically, reconstructing data at the specified location, even if it is hundreds of kilometers distant. Cloud backup systems that automatically record both system information and data allow you to easily restore an entire system to alternate hardware in a new location with no technical staff help.
Furthermore, by utilizing solutions that enable you to customize data retention schedules and rules, you may pick the amount of security required for various categories of data on a per-server, or even per-folder, basis. You may also rapidly access specific versions of data from a library of stored versions over the Web.

Conclusion
Finally, our Server Backup Cloud Storage service is the ideal solution for protecting your critical data and maintaining business continuity. You can focus on expanding your business while we protect what matters most with secure offsite storage, predictable prices, speedy data recovery, and the knowledge of our trusted staff. Choose our service for dependable, hassle-free data security instead of risking data loss or downtime. Our main concerns are the security and accessibility of your data, and we're here to provide you peace of mind.